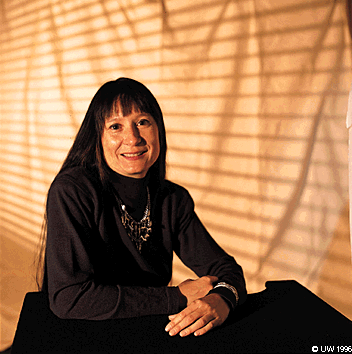 Maria P. P. Root, Ph.D: clinical psychologist, published author, clay artist, social change advocate, and…plagiarist? When Maria was in elementary school and later again in graduate school she was accused of plagiarism because her teachers did not believe her work was her own. Her teachers exposed Maria at an early age to the reality of racism and reinforced its prevalence across time in her later years. Maria was born to a Caucasian father and Filipino mother. Having been born to a multiracial identity, Maria has wisely used her race-related experiences to inspire people within and without the field of psychology to investigate the truths behind racism and other social constructions that bound us from connecting to our authentic selves and each other.
Maria was born in Manila, Philippines on September 13th of 1955. She grew up in a poor family, barely able to put food on the table, the oldest of three. At a young age her family immigrated to the United States while the Asiatic Barred Zone act was still in place. The Asiatic Barred Zone Act is more broadly and commonly known as The Immigration Act of 1917. The act aimed to keep out certain "undesirable" people including people from different parts of Asia, Turkey, Saudi Arabia, the Polynesian Islands and the surrounding areas including the Philipines. A few acts in the 1950s and The Immigrant Act of 1965 legally allowed many of these people to become true citizens although racist intentions still exist today as these new acts were fairly recent (only 47 years ago!). The Asiatic Barred Zone Act forced Maria and her family to enter the US through Guatamala and so she grew up in Los Angeles, California. She was strongly influenced by her mother who became a psychologist herself and strongly encouraged education. Maria's identity is rooted in hardship and suffering related to race, ethnicity, and gender. Her career in psychology reflects her journey and strong passion for cognitive flexibility.
Maria attended Catholic school as a young girl where she first encountered psychology as a client in therapy working on internalized guilt. Her mother exposed her to more psychology when she used Maria as a role play client for relaxation techniques and biofeedback. In 1977 Maria received her Bachelor's in Psychology and Sociology at the University of California at Riverside. In 1979 she received her Master's degree in Cognitive Psychology at Claremont University in Claremont, California. Then in 1983 she completed her Ph.D. in Clinical Psychology with an emphasis on minority mental health at the University of Washington in Seattle.
Career and Accomplishments
For twenty years and counting, Maria has been in practice working with couples, families, and individuals focusing on culture, transitioning, trauma, ethnic and racial identity, eating disorders, and workplace harassment. She has published books on these areas and lectured around the world for all kinds of organizations (universities, community groups, professional organizations etc).
Her most popular publications are "Racially Mixed People in America" (1992), the first modern text on racially mixed people, and the "Bill of Rights for Racially mixed People". She also wrote a book called "Love's Revolution: Interracial Marriage" accounting for the growth in interracial marriages and families.
Here we can hear the rights that Maria Root coined from a woman inspired by Maria Root's work and intentions:
Maria's work and publications contributed to major changes in the United States Consensus (2000). The consensus changed the option for respondents to check more than one box for race, changing the national perception and identification with race and ethnicity.
Maria was President of the Washington State Psychologocial Associatin and chair of American Psychological Association's board for the Advancement of Psychology in Public Interest. She also spent some time teaching at the University of Hawaii and the University of Washington. These positions have provided her with opportunities to serve the public in ways that she could enact social change in social systems, a deep passion of hers.
Currently, Maria lives in Seattle, Washington where she still has a private practice, lectures, researches, and consults with law enforcement to provide psychological evaluations. She is also an active member of the Asian American Psychology Association.
Relevance to Psychology of Women Class
Maria Root's significance to our class is based on her identity as a multiracial woman. Not only is it challenging to find equal opportunity and treatment as a woman in our society, but as a multiracial women it is even more challenging. Ethnic minority women, as we have learned, have higher rates of depression, poorer health, lower socioeconomic status and higher rates of poverty. Immigrant minority women have the added stress of different cultural norms upon entering the United States. Maria Root is an inspiration as an immigrant, multiracial woman herself having lived this challenge and her research has contributed to helping many women in similar positions and identities to cope with challenges as well embrace their natural born identities. Furthermore, Root's research and group treatment work with eating disorders in women has also contributed to women's understanding of positive body image and healthy eating habits. She takes a feminist approach to therapy realizing that many problems with identity be it race or gender stem from a flawed social system and false realities such as racist constructs. Her life, her research, and her service has been a great contribution to women's mental health and the general public's overall awareness of these issues and natural identities.
http://www.feministvoices.com/maria-p-p-root/
http://www.drmariaroot.com/about.php
http://www.washington.edu/alumni/columns/dec96/blurring5.html
http://drknow.newsvine.com/_news/2008/10/07/1965449-the-real-american-ethnic-shame-asiatic-barred-zone?threadId=381855